Flow Dashboard for Data-Driven Occupancy Operations
by Chad, on 2020/05/22 14:54:42
Using the power of cloud-based technology, the Flow platform is able to create a synchronized dashboard for understanding the situation in all stores.

It can be deployed quickly and remotely without any capital expense. Whether using the Flow GO manual counter or our high-accuracy Eddy solution for occupancy monitoring, all data and historical records are kept in a single, unified database.


Automated and Smart Occupancy Counters

Every team member will be provided the current occupancy tally of a location in real-time via our FlowGo mobile app and the cloud-based dashboard. Flow also tracks and timestamps the mobile click for each customer entrance and exit to ensure the entire system is auditable by regulatory organizations and management alike.
The benefit of not closing regular entrances and utilizing as many regular entrances as possible means that the distribution of people entering the store is more spread out and safer. Many short lines instead of a single long line helps promote social distancing even outside a physical location.

A Centralized Command Centre
The Flow dashboard is a centralized command centre that manages customizable zone-based occupancy, automated alerts, database management and communications through a centralized portal.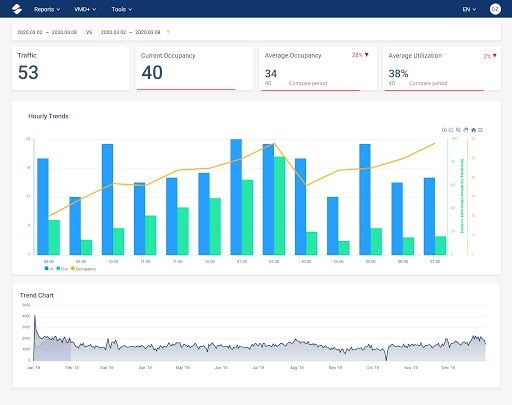 The occupancy dashboard is shareable through privacy-focused access controls allowing you to communicate with all stakeholders. These features can be used in communication with store managers and staff via our mobile app. Thus, promoting safe occupancy and density levels in all shops at all times.




The Flow API lets you display the occupancy of a location on your website, digital signage or mobile app , informing your customers of the locations with the lowest density and enforcing social distancing comfortably.